stand with graphic

60" double sided floor display

graphic size 20.75" x 61"

Cost $2,250

Optional fiber wheeled shipping case $165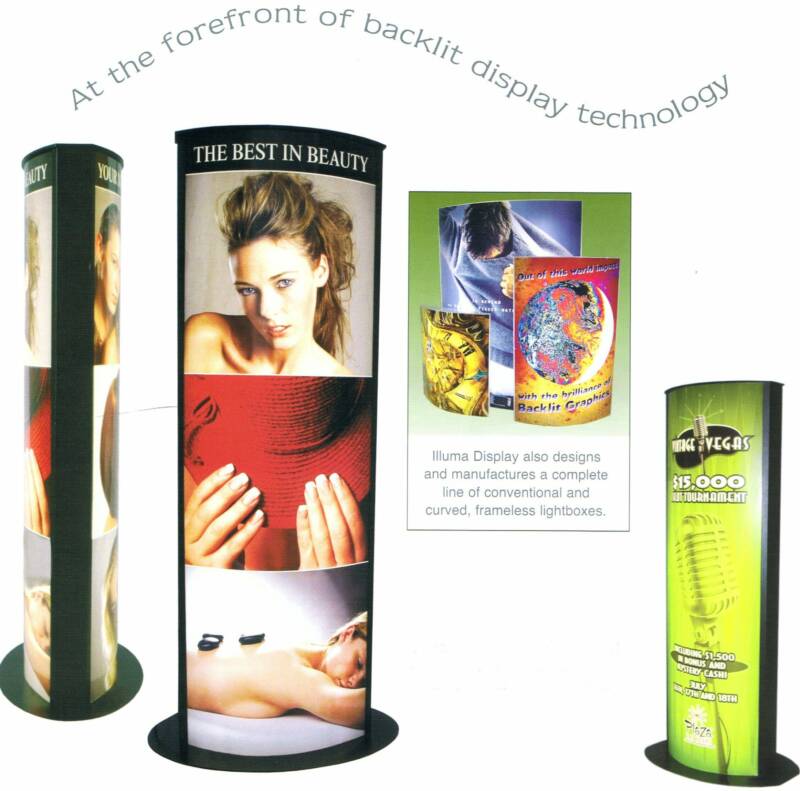 A distintive and illuminated frameless graphic stand that really stands out! Perfect

for retail outlets, shopping malls, banks, airports, museums, or any public area

where an eye-catching visible display is desired.

Versatile- Available in one (1) two (2) or three (3) tiers. Each illuminated tier consists of a double-sided 22"W x 28"H graphic panel.

Powerful visual impact- The three tier Illuma-Graphic® Stand towers over 7 1/2 feet and the two tier version is over 5 feet. Both are an excellent attention grabbing visual display.

Convenience- Graphics are easily replaced. Simply flex the panel you wish to change and the screen pops right out! Slide in a new graphic and flex the screen back into place. No tools required and no need to remove ANY other screen.

Durable- Designed and manufactured to withstand daily wear and tear. All metal base features a tough scratch resistant powder coat finish. Standard finish is a texured spider vein black.